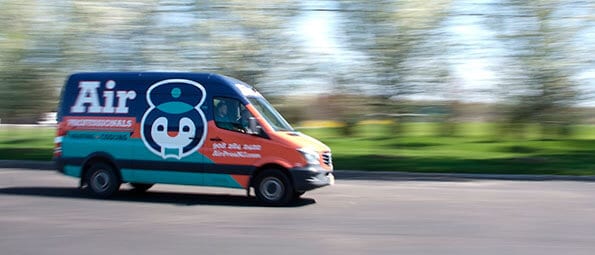 Our Heating Contracts ready to service your HVAC heating needs.
Leading heating HVAC services: HVAC repair, HVAC maintenance, HVAC installation, HVAC replacement
Throughout Central New Jersey, when the temperature drops the cold can be pretty brutal. At Air Professionals Heating & Air Conditioning we understand you can never plan enough for emergency situations.
Our bundle of superior products and quality services is the complete package to chase away the chill and preserve your warmth and tranquility.
Our NATE-certified, trustworthy techs can handle every heating challenge you throw at them, including furnace replacement, installation, repair, and maintenance. We are not like those other heating contractors out there.
We are there for you 24/7 and stand behind our work with a 100 percent guarantee when you need your heater repair.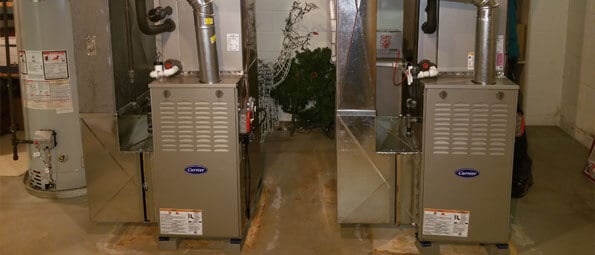 Heating Repair
Our licensed and insured heating professionals are ready for a type of heating repair service. Our team has performed countless furnace repairs so we have seen it all.
Air Professionals Heating & Air Conditioning can repair a variety of heating systems including furnaces and heat pumps.
Having a properly working furnace or heat pump is critical during the cold months in Central New Jersey. We've warned folks time and time again: Don't let those little problems with your heating system snowball out of control. Why? Because fixing a little, inexpensive problem today can prevent a huge, costly disaster tomorrow.
At Air Professionals Heating & Air Conditioning, we pride ourselves on being honest with our furnace repair & heat pump repair, just check out our reviews! We will never try and convince you that a replacement is necessary when a repair makes the most sense. Our team can fix any top brand furnace and we specialize in carrier furnace repair.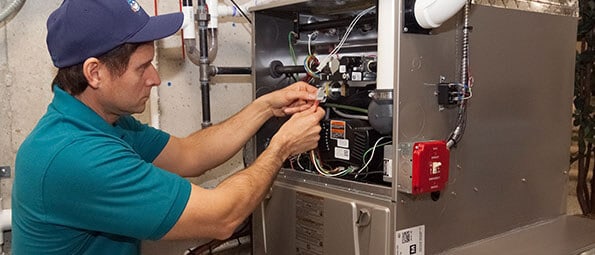 When one or more components malfunction it can make things complicated with your heating equipment and impact the entire system's ability to operate. Our technicians will help you get to the bottom no matter what the problem is whether or gas furnace or electric furnace. Our affordable furnace repair service can not be matched in Central New Jersey.
Common furnace repair:
The furnace won't turn on
The pilot light is out
Strange noises are coming from the furnace during startup or operation
The main burner won't light or won't stay lit for longer than three seconds
The blower never turns on after the burners are lit
The furnace blower stays on constantly
Your trusted emergency furnace repair company.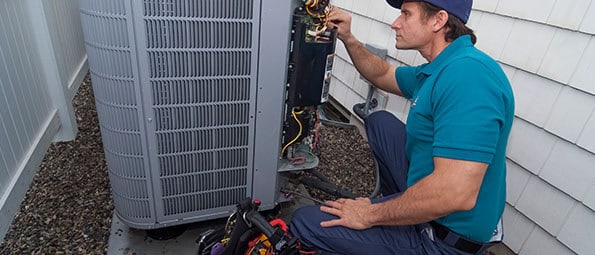 An air-source heat pump can be tricky to troubleshoot. When you have a problem with your heat pump, you want to check the basics: air filter, power, thermostat settings. Anything beyond that, you need to call in a professional to troubleshoot the heat pump. Our heat pump technicians will be able to fix the problem on the first call.
Common Heat Pump repair:
Broken reversing valve
Cleaning the condensate drain
Thermostat recalibration
Defrost pipes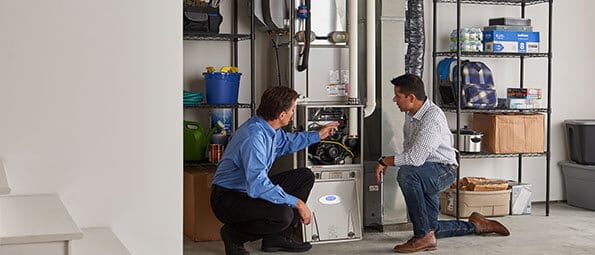 Heating Maintenance
Your heating system can become extinct before its time if you fail to give it the regular TLC is deserved. You might think you're saving money by putting off routine furnace maintenance or heat pump maintenance. But it ends up costing you more in the long run with out-of-control repair and replacement bills.
Air Professionals approach each maintenance visit with honest answers, superior craftsmanship, and top-notch heating services in Central New Jersey. We are the best heating contractors around.
A typical maintenance check-up should include the following:
Check thermostat settings
Tighten all electrical connections
Lubricate all moving parts
Check and inspect the condensate drain
Check controls of the system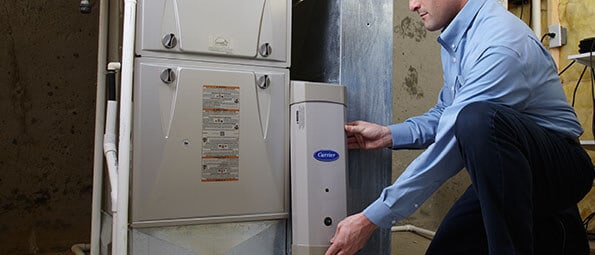 A furnace that is working properly is the key to low energy bills and avoiding untimely breakdowns. Our heating technicians go through a rigorous 28-point tune-up checklist during the visit. Regular maintenance and inspection could save you money on your energy bills.
We recommend scheduling an annual furnace maintenance appointment prior to the beginning of the heating season.
Items we check during our tune-up visit:
Checking for carbon monoxide emission
Inspecting visible ductwork and flue pipe for leaks
Checking unit for peak efficiency
Inspecting ignition system and assembly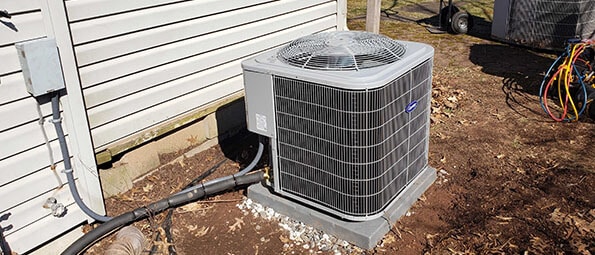 Heat Pump Maintenance
A heat pump that is not heating or cooling is a problem. It is essential to a heat pump's longevity, efficiency, and reliability to have seasonal maintenance if you run your unit both in summer and winter.
Keeping up with your heat pumps' maintenance means your unit will less likely experience an HVAC heat pump emergency during the chilly and hot seasons. We will make sure your heat pumps work well all year long.
Common items we check during our heat pump maintenance:
Thermostat
Power Supply
Ice or Freezing
Air Flow
Condenser Fan Motor
Refrigeration Problem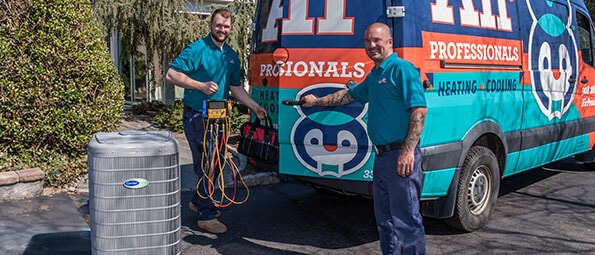 A dependable, efficient and affordable heating system isn't a luxury in central New Jersey, it is a necessity. That's why we carry only superior furnace choices like carrier furnaces and carrier heat pump.
Our highly trained technicians have been on this journey many times before and will use the experience they've gained to thoroughly size up your home and recommend the system that's best for your heating needs—and your budget.
We are honest and upfront with all our heating replacement & installation services. We will help you decide which system is right for you—from a gas furnace to an electric heat pump.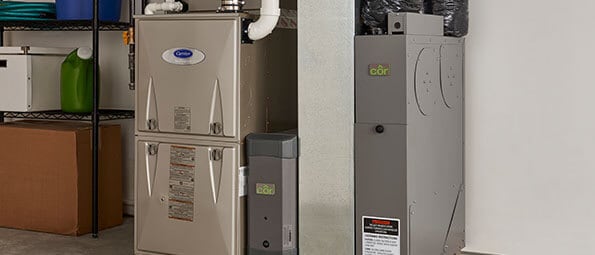 Furnace Replacement
Modern furnaces will be more efficient, last longer, and will save you money on utility costs in the long-run.
If you're thinking about replacing your existing furnace we will make sure your new furnace is the most affordable, efficient and reliable fit. Our technicians are equipped and trained to hand any electric or gas furnace replacement.
Here are just some of the signs that your furnace is headed for a total meltdown:
Your system is at least 10 years old.
Your unit is generating little or no heat.
Your energy bills have increased.
Your repair bills are out of control.
You notice strange noises and odors.
If you are looking to do an oil furnace replacement, our sales team can walk you through the oil furnace costs you can save with switch to a more energy-efficient system.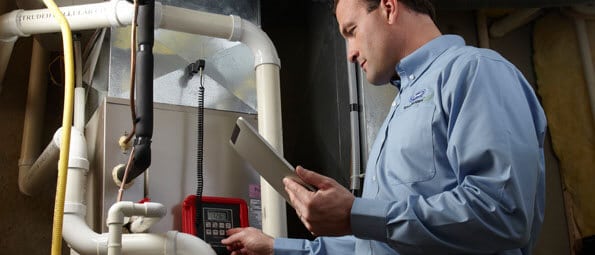 Furnace Installation
Installing a high-efficiency gas furnace in a home is a straightforward process for our NATE-certified technicians. Our team of experts has the knowledge to install any top brand furnaces on the market.
Proper installation of a high-efficiency gas furnace requires attention to many details and interconnecting systems:
heating capacity (sizing)
consideration for duct distribution systems
gas piping
vent systems
provision for combustion air
flue gas condensate disposal
electrical connection requirements
provision for forced-air cooling (as required)
air filtering equipment
humidification requirements
To install a high-efficiency gas furnace as a retrofit measure; we identify and address risks, and the steps to be used in the selection and installation process.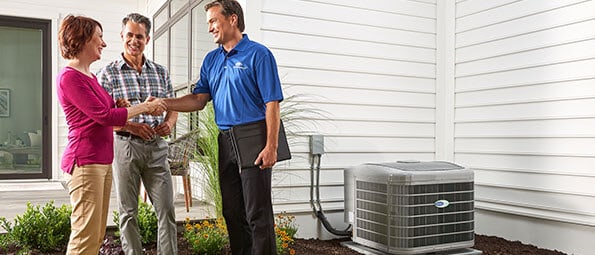 When it comes to heating, homeowners have many options. Some are better suited for cold climates than others, and it can be tricky determining the best one for your home.
Many homeowners have to deal with subfreezing temperatures every winter, but many others are fortunate to live in warmer climates. If you fall in the latter, a heat pump is the ideal HVAC system for you.
If you're looking for an inexpensive and efficient heating system, you might consider a split system heat pump. Heat pump prices may vary depending on if you go ductless or ducted.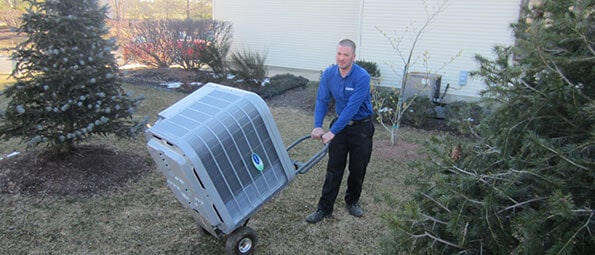 Heat pump installation is no easy task, but we are up for the challenge. We offer both ducted heat pumps and ductless heat pump options.
When installing a heat pump we will be:
Install the Condenser
Add Air Handler Mount
Mount the Air Handler
Connect the Air Handler to the Condenser
Cover the Lines
Make Final Connections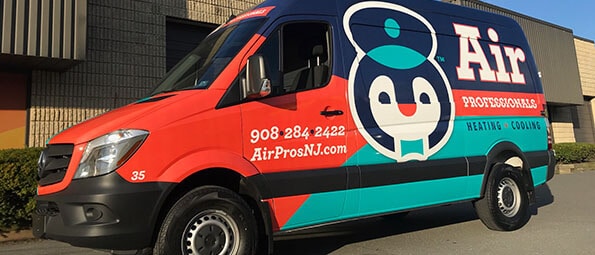 24 hour furnace repair in Central New Jersey. If you run into a heating emergency, the team at Air Professionals Heating & Air Conditioning is here to help. You can rely on us to bring clean, circulated heat back into your home in a timely manner.
Emergency gas furnace repair and emergency heat pump phone line: 809-284-2422
If you think it may be time to replace your old heating unit, schedule a FREE in-home consultation with Air Professionals Heating & Air Conditioning.